ETC ColorSource Spot
Lighting versatility for every budget
A tight budget shouldn't prevent you from accessing the energy efficiency and brightness of LED lighting. That's why ETC developed the ColorSource™ Spot, a luminaire that brings ETC's quality LED engineering within your reach.
See Spot shine!
The ColorSource Spot outperforms other four-color LED profiles, thanks to its precise combination of red, green, blue and lime emitters. ETC applied its extensive color-mixing knowledge to the fixture, to ensure that it can achieve brighter, richer and more believable colors than other budget LEDs, especially in the warm end of the color spectrum. Bright, punchy, with incredible output, the ColorSource Spot is also more dependable. You don't have to worry about it fading over the course of a show, because it compensates for thermal droop to keep the color going strong.
No experience required
Don't want to spend an eternity setting up and trying to figure out how to control your fixtures? The ColorSource Spot is intuitive and approachable for anyone. It works with any lighting-control desk, or it can be used console-free, so you can just plug the ColorSource Spot in, punch a couple buttons on its user interface, and be good to go. No special training or lighting experience necessary.
It's a Fresnel! It's a Zoom! It's ColorSource Spot!
Want more bang for your buck? The ColorSource Spot accepts all the accessories, zoom and fixed-focus lens tubes, and CYC and Fresnel adapters that fit ETC's Source Four® LED luminaires. You get the versatility of the Source Four LED system in an affordable fixture capable of filling any role in a light rig.
About the ColorSource Array options - Original vs. Deep Blue
Original ColorSource fixtures use an RGB-L array where the 'B' represents the use of blue LEDs. ColorSource Deep Blue replaces those blue LEDs with a deeper 'Royal Blue' (indigo) LED. How does this impact your color mixing? Please reference the color chart below.
Original ColorSource fixtures can reach any color within the dark shaded triangle while the ColorSource Deep Blue fixtures can reach any color within the light shaded triangle. While much of these areas overlap, there is a portion of each range that can only be reached by the respective color arrays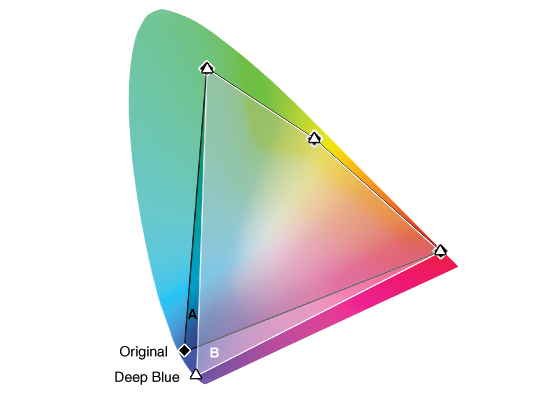 Here is a list of some common gel colors that can only be reached by original ColorSource or ColorSource Deep Blue:
Common Gels found in original ColorSource

 

Common gels found in ColorSource Deep Blue

 Roscolux
 Lee
                       
 Roscolux
 Lee
 095
 363
 
 384
 126
 075
 119
 
 388
 049
 076
 721
 
 382
 798
 
 722
 
 059
 707
 
 132
 
 358
 181
 
 141
 
 347
 071
 
 183
 
 049
 120
 
 172
 
 349
 716
 
 325
 
 049
 
 
 
 
 124
 
 
 
 
 027
 
 
 
 
 120
 
Click here for a Datasheet.
DOES NOT INCLUDE LENS TUBE