ETC ColorSource PAR
So many venues want to add LEDs to their lighting systems, but the fixtures in their price range are far from ideal. ETC's answer to that problem is the ColorSource™ PAR, an LED luminaire crafted by lighting experts. It outputs bright, beautiful light and lives up to ETC's standard for quality and is backed by ETC's industry-leading service.
An LED of a different color
Most budget LEDs use red, green, blue, and possibly white and/or Amber emitters, a combination that results in a limited color range. In contrast, the ColorSource PAR benefits from ETC's extensive experience in LED color-mixing, by using the proportionate recipe of red, green, blue, a twist of lime and an extra dash of red. The lime and double-red emitters expand the ColorSource PAR's color range, allowing users to get a richness only possible from ETC LED luminaires. The unique blend also adds depth, making a more natural, flattering light. And, when ColorSource PAR fixtures are used at any intensity, they maintain their color quality.
Color you can trust
ETC color calibrates every LED luminaire that it makes. They're all tested for uniformity, so the color that one ColorSource PAR produces will match the color from the rest of the ETC LED luminaires on a rig. And unlike other manufacturers' LED fixtures, whose colors drift the second they're switched on, the ColorSource PAR compensates for thermal droop, so the color at the start of a show will look the same as at the end of the show. 
Easy as can be
Despite the ColorSource PAR's superior color capabilities, it's unbelievably simple to use - with or without a lighting desk. Even the simplest console can control the luminaire, which has a special RGB mode allowing it to work easily with third-party consoles. And the ColorSource PAR has its own user interface, which means it can be controlled without a console. Users can simply plug it in and begin working within seconds.
About the ColorSource Array options - Original vs. Deep Blue
Original ColorSource fixtures use an RGB-L array where the 'B' represents the use of blue LEDs. ColorSource Deep Blue replaces those blue LEDs with a deeper 'Royal Blue' (indigo) LED. How does this impact your color mixing? Please reference the color chart below.
Original ColorSource fixtures can reach any color within the dark shaded triangle while the ColorSource Deep Blue fixtures can reach any color within the light shaded triangle. While much of these areas overlap, there is a portion of each range that can only be reached by the respective color arrays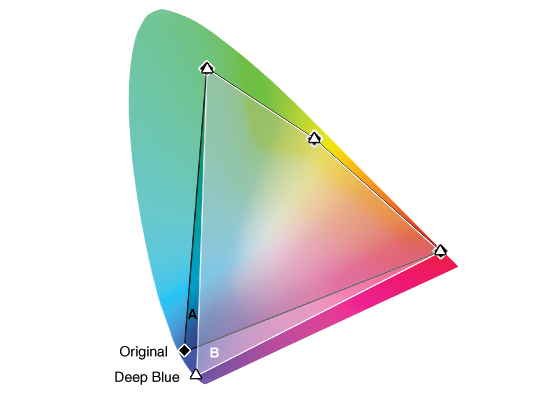 Here is a list of some common gel colors that can only be reached by original ColorSource or ColorSource Deep Blue:
Common Gels found in original ColorSource

 

Common gels found in ColorSource Deep Blue

 Roscolux

 Lee

                       

 Roscolux

 Lee

 095

 363

 

 384

 126

 075

 119

 

 388

 049

 076

 721

 

 382

 798

 

 722

 

 059

 707

 

 132

 

 358

 181

 

 141

 

 347

 071

 

 183

 

 049

 120

 

 172

 

 349

 716

 

 325

 

 049

 

 

 

 

 124

 

 

 

 

 027

 

 

 

 

 120

 
Click here for a Datasheet.